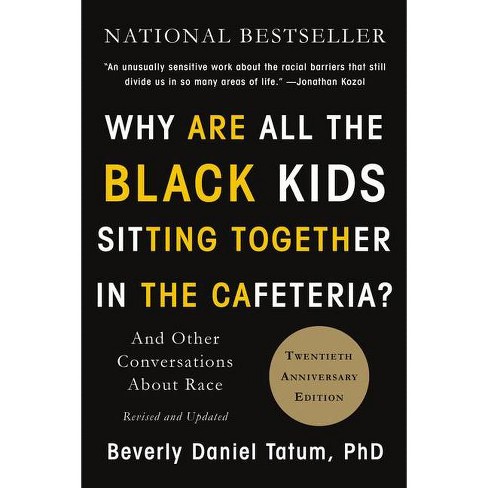 Systemic racism is not new, but widespread discussion of it has been.
I keep writing and rewriting, unsure of what to say because I am a white person who grew up in an abundantly white, rural place who assumed that life where people didn't all look the same was like Sesame Street. I struggle because I don't understand.
Beverly Daniel Tatum's book Why Are All the Black Kids Sitting Together in the Cafeteria? has been a helpful resource. Following are the quotes and notes I recorded back in May when I read the book.
On page 9, she offers a helpful example that gives us a working definition of systemic racism:
On page 22, she quotes Audre Lorde, a Black writer:
On page 41, Tatum talks about a question from her four-year-old son about slavery–it was sooner than she had expected/wanted to address it, but she was glad to introduce the topic on her own terms. She goes on to explain that many Black students come back and tell her that their school only taught about Blackness in terms of slavery and portrayed the enslaved as "helpless victims–the rebellions and resistance offered by the enslaved Africans are rarely discussed." She also mentions how White students and teachers are uncomfortable discussing race and its history in any capacity.
More on Black students and learning about race and history in the classroom from page 66:
She points out the unfortunate reality that those Black young people who do not go on to college will likely miss out on these learning opportunities.
On page 102, she points out that in confronting racism, White people struggle with being seen as a member of a group rather than an individual, while people of color have had that experience their whole lives. On page 103, she says:
She uses the example of one researcher who found that when people of color and women talked about systemic discrimination, "white men heard it as a condemnation that they somehow didn't 'deserve' their position," making their statements of frustration about themselves rather than the people voicing their concerns.
But there is hope. Listening goes a long way. Calling out bad behavior helps. Looking to examples of White people who have actually been helpful rather than trying to hurt or just missing the mark. This was the most helpful quote for me, personally, from page 109:
It hurts to know that things aren't as they should be. I'm thankful that God is sovereign over all, but that doesn't excuse us from doing what we can to love our neighbors, to speak for the oppressed, to vote for candidates who will show care and respect for all. Jesus will be the one to dry every tear one day, but we can shoot for something closer to life on Sesame Street in the meantime.
{2020 word count (does not include quotes): 3,001}